Welcome to Bid Below Retail!
First time? Click Here to Register
PICK UP DAYS are Tuesday from 1pm-6pm
Thursday 1pm-6pm & Sat 12pm-5pm
7307 Roseville rd suite 12
Sacramento ca 95842
New Features Added
If you are using a mobile device you can now slide the thumbnail to the side to view more images without going to the details page. Also a live amazon link is in the description box for the most current retail price of each item. If you want more information or images just click on the link. We Hope these changes make your bidding experience better :)
More features will be added at a later date that are in the works.
A man Without self control is like a city broken into and left without walls.
Proverbs 25:28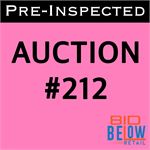 Inspected returns and overstocks from major retailer, some items may have box damage and some may be new never used and some may be damaged with missing parts. This is a liquidation Auction and item conditions vary. We take pictures to show how the item looks and the condition its in. All bids are final and cant be cancelled. Please read Terms and conditions prior to bidding. If you would like to come and inspect an item please give us a call to schedule a time to come in.
Bidding Open
Accepting Final Bids
Bidding Closed
Starts Closing In:
Closing
Ended